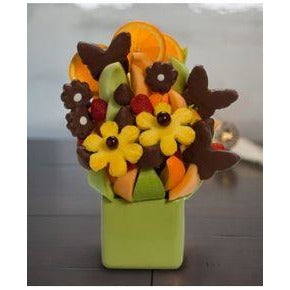 Chocolate Citrus
Regular price $78.78 Sale
Treat them to a little bit of spring paired with the wonderful smell of citrus!
This bouquet features our yummy chocolate covered pineapple paired with honeydew and cantaloupe wedges, orange wedges and slices, fresh strawberries, and pineapple flowers.
Chocolate treats include pretty milk chocolate covered pineapple butterflies and daisies, and chocolate covered strawberries.
Perfect just about any time of the year - but perfect for spring giving!