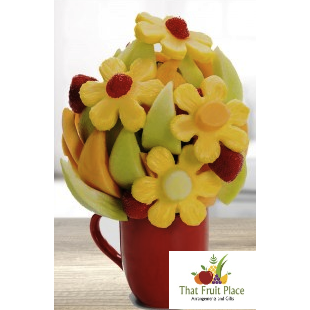 Pinapple Surprise
Regular price $41.60 Sale
The perfect surprise to brighten someone's day!  Flowers they can eat.
Fresh Sweet Honeydew and Cantaloupe wedges, Fresh Sweet Strawberries, and Fresh Sweet Pineapple Daisies. Sometimes we tuck in extra fruit as a surprise - depending on stock.  This bouquet is all fresh fruit and makes a sweet gift.
Send as is - or tuck in a bit of chocolate. See "Add Ons" to order extra items.
Small comes in a mug, Med in a tin, Large in a ceramic or suitable base.