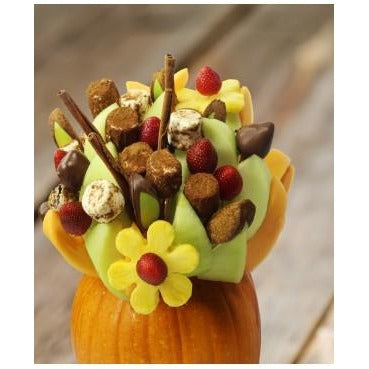 Marshmallow 🍂 Pumpkin Spice
Regular price $78.00 Sale
This bouquet smells as wonderful as it tastes and is perfect just about any time! 
Sweet honeydew melon, fresh cantaloupe wedges, fresh strawberries with chocolate covered strawberries, pumpkin spice strawberries, chocolate covered apple wedges, chewy chocolate marshmallows, cinnamon sugar sprinkles, finished off with cinnamon sticks, and pineapple daisies. It's a fun fall treat!
Note: This bouquet comes in a regular container and can be done any time - pumpkin bases are only available during October.

One Size. Easily feeds 4 to 6.