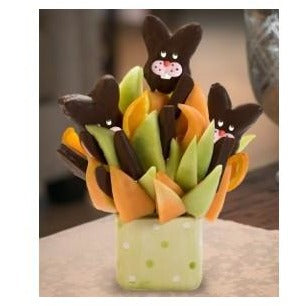 Honey Bunny
Regular price $52.00 Sale
Happy Easter, Honey Bunny!
This bouquet is shown without strawberries - but does include.....
fresh sweet honeydew, cantaloupe, orange wedges, fresh strawberries, chocolate covered apples, and chocolate covered bunny rabbits.
This Easter, send them some fresh fruit!
The small is perfect just for one and comes in a mug or small tin.
Small: 1 Bunny Pop     Large: 3 Bunny Pops