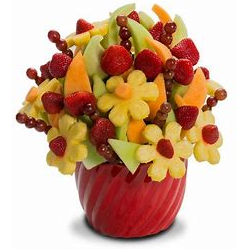 Fruit 'n Berries
Regular price $97.76 Sale
Make life a little sweeter with this simply loaded fresh fruit bouquet.
Pineapple daisies, red grape skewers, oranges, honeydew and cantaloupe wedges, topped off with loads of fresh strawberries.
Sometimes we'll tuck in a few surprises if we have them (blueberries, green grapes, etc.)
This bouquet is all fresh fruit and perfect for a larger group.
You can search "Add Ons" if you wish to add chocolate.
Feeds Approx: Sm: 5 to 10, Md: 10 to 15, Lg: 15 to 20