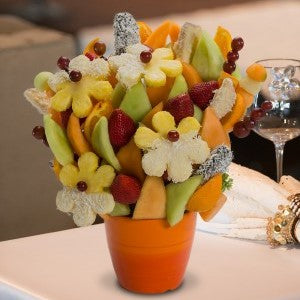 Celebration Bouquet
Regular price $81.12 Sale
Pineapple, Chocolate, and Coconut!  
This bouquet includes sweet pineapple, white coconut and our decadent milk and white chocolates.  You get to choose your options.
Includes honeydew wedges, cantaloupe wedges, juicy orange segments, grape skewers, fresh strawberries, and sweet pineapple.  Crisp apple wedges covered in creamy milk chocolate and white chocolate.  Finished off with pineapple daisies tipped in decadent white chocolate rolled in sweet coconut.
Perfect for the next celebration.