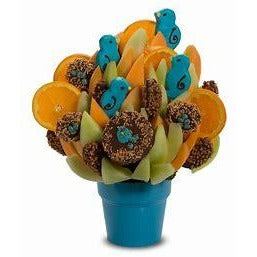 Blue Birds
Regular price $75.92 Sale
Send happy thoughts with these little blue birds!

Fresh sweet honeydew and cantaloupe wedges, orange slices, chocolate covered apples with toasted coconut or chocolate covered strawberries in blue or chocolate (you choose).  Finished off with pineapple blue birds and a pineapple toasted coconut nest - with chocolate easter eggs tucked inside.  
Shown with small bird nests - we replace with chocolate covered strawberries to add more variety. 
Perfect for the bird lover in your life, someone buying or building a new home, or anyone who loves chocolate and coconut.