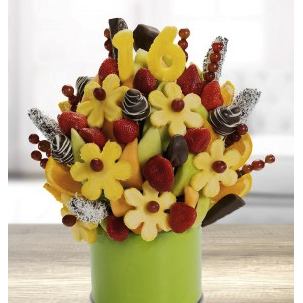 BIG Birthday Surprise
Regular price $109.20 Sale
This is one large Birthday Bouquet bursting with variety - and it comes topped with your recipients age - or butterflies!

It's loaded with Cantaloupe, Honeydew, Oranges, Pineapple Flowers, Grape skewers, Fresh Strawberries, Strawberries dipped in chocolate with white swirl, Crisp apple wedges dipped in chocolate with coconut, white swirl, and some in plain chocolate. 
Be sure to let us know what numbers to use when you order.  Stars or butterflies can be used if there's no magic number.....just leave us a note!